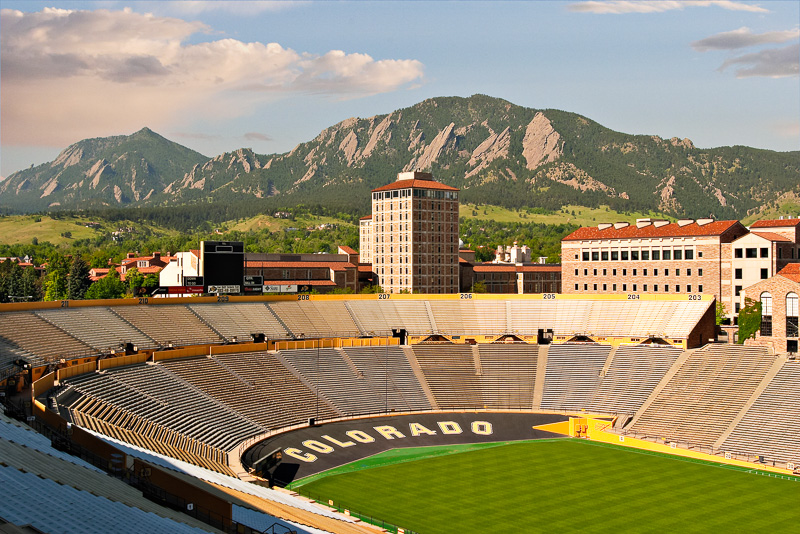 Boulder offers the perfect mix: A laid-back college town with big-city business smarts.
The city's approximately 100,000 residents work and play against a mountain backdrop that includes the iconic Flatirons, and the "back range" Indian Peaks Wilderness Area with its snowy Arapaho Glacier. More than 30,000 of those residents attend the University of Colorado- Boulder with its picturesque campus.
Boulder's unique setting and its high percentage of residents who wear Spandex belies the high concentration of companies in the aerospace, bioscience, data-storage and software industries. National corporations such as IBM Corp., Ball Aerospace & Technologies Inc., Lockheed Martin Corp., Covidien Inc., Corden Pharma International Inc. and Google Inc. are there. They city also has many professional and technical service companies and considers itself a center for alternative and renewable-energy research and natural and organic businesses, among other things.
Boulder's natural attributes and support from peer companies draw many entrepreneurs to the city. Here, they start and grow new businesses, attracting a good amount of startup and venture-capital funds. In fact, the companies in Boulder drew more venture-capital, per capita, than companies in any other nation, based on industry statistics.
These innovative companies reflect the intellectual energy found in Boulder, which is supported by the University of Colorado, several major federally funded science laboratories and one of the nation's percentage of residents with college degrees as well as a high quality of life.
CU-Boulder is the Rocky Mountain regions largest and most-comprehensive campus. It offers 3,400 courses, boasts four Nobel laureates and works extensively with private businesses through it Technology Transfer Office.
Boulder's quality of life largely helps attract and keep the city's educated work force. After work, residents can frequent local shops and restaurants or head straight into the mountains for hiking in the summer and skiing in the winter.
Boulder's vibrant historic downtown features the Pearl Street Mall, an award-winning pedestrian shopping, dining and entertainment destination. More retail and restaurants can be found in the city's central corridor surrounding the Twenty-Ninth Street retail district. The city has more than 400 restaurants, including several that have received national acclaim.
With a resident symphony, four museums, 32 movies and stage theaters, numerous festivals and more than 30 art galleries. The city is a haven for culture. Boulder also offers highly ranked public and private schools, three city recreation centers and one of the regions four hospitals, which has two main campuses.
At the edge of these urban attributes, Boulder prominently features the natural outdoors. The city owns more than 45,000 acres of mountain and plains open space, with more than 200 hiking and biking trails.
Boulder Profile
Square miles: 25.5
Population: 103,606
Households: 43,878
Median household income: $57,231
Median homes sales prices: $567,500
Median age: 29
School district: Boulder Valley
Sales tax: 8.16 %
Top Private Employer: IBM (3,400)
Top Public Employer: University of Colorado- Boulder
Electricity: Xcel Energy Inc.
Online Resources
City of Boulder: www.bouldercolorado.gov
Boulder Chamber: www.boulderchamber.com
Boulder Economic Council: www.boulderbusiness.org
Economic Development Contact/Incentives
Clif Harald, Executive Director, Boulder Economic Council
303-786-7567 clif.harald@coulderchamber.com
Liz Hanson, Business Liaison, City of Boulder
303-441-3287 hansonl@bouldercolorado.gov
The city of Boulder's Economic Vitality Program supports efforts through public and private sources to help businesses grow and remain in Boulder.  Incentives include flexible tax and fee rebates for primary employers, a microloan assistance program, and parks and recreation discounts for all employees in Boulder. The program provides business assistance services and business retention and outreach efforts.
Presented by
Boulder Area Realtor Association